Welcome to the web-site of the Newcastle Falcons Supporters Club
First of all, thank you for taking the time to browse our website.
The Supporters Club is run by the Supporters for the Supporters and as an independent body.  All decisions relating to the Club are made by an elected committee or the membership as a whole by way of Annual General Meeting. 
Hopefully you will find the information you are looking for, there are lots of links on the aptly named Useful Links page and also dotted throughout to point you in the right direction but if you want to contact us, have any questions or want to bring something to our attention please email by clicking here 
If you are more old school and prefer to talk in person you will always find some of us for a warm welcome behind the posts (at the back under the clock) in the South Stand at home games, just ask any of the friendly natives and they will point you in our direction.
If you have not yet registered for membership with the Supporters Club, why not?  Further details can be found by clicking the Join Now! tab. Fees for the 2023/24 season are just £15 for a family membership for up to 2 adults and up to 2 children (under 18 years) living at the same address or £10 for an adult member.  Membership runs from the 1st August to the 31st July.
I have a theory that the majority of people think the Supporters Club is purely for those wanting to travel to away games and while that was the reason it was set up in the first place it has spread out from that single objective and has the potential for so much more as well as providing a vital link directly between fans and management through regular committee meetings. Personally I feel the best way I can support the Falcons is by being a season ticket holder and also a member of the Supporters Club.  Our "neighbours" Sale Sharks are probably in a very similar position to us…representing professional rugby union in football hotspots (and also a big rugby league hotspot for them), long journeys for even "local derbies" so as  clubs we probably face more week to week challenges than the other clubs in the Premiership so I feel we need really strong connections within the club and everyone needs to be pulling in the same direction. Obviously over the past few years many things have been mothballed but hopefully even in the current economic climate things can change and there can be more events and social activities. I usually go to games on my own (cue sad violin music) so I joined the Supporters Club as a way to get to know a few people and feel a bit more involved and try to play a bigger part in all things Falcons, so why not do the same? 
As always the Supporters Club is working with Newcastle Falcons to make sure that together we provide a great rugby experience at Kingston Park and at as many away games as possible.  

Chris Lishman Photography
A special mention and thanks to Chris who takes all the matchday photographs for the Falcons and supplies us with any photographs we need. These really brighten up and add interest to our website, it would look very different without them so thanks again Chris.
I'm not sure what has happened to the photo galleries from each game on the new Falcons website, if anyone knows where they are please let us know but you can find them all on Chris' website, where you will find not just sports images but some great landscapes from the whole of the north east, well worth a look.
To get to his website click here

Falcons not affected by Thunder
Statement from Newcastle Rugby Ltd.
Following the news released by Newcastle Thunder Ltd and its decision not to participate in next season's competition we want to address the discussion surrounding any potential impact on Newcastle Rugby Ltd and Newcastle Falcons.
The decision that Newcastle Thunder will not compete in Betfred League One has no effect on Newcastle Rugby Ltd and our rugby union team, Newcastle Falcons.
We remain committed to being here for years to come and are continuing to push ahead with exciting plans for both this season and those to come.
Our thoughts are with everyone involved with Newcastle Thunder and we wish them all the best in the future

Next up at KP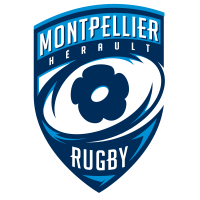 Sunday Dec 10th, for information and tickets click here
 There is a revamped matchday experience this season at KP so to find out exactly what you can expect both on and off the field click here
Season 23/24
Lots of changes in both the playing squad and coaching set up over the summer and we have added to our Argentinian contingent but I don't think there is any truth in the rumour we will be rebranding as Newcastle Pumas or Newcastle Jaguares, or that The Blaydon Races will be replaced by Don't Cry for me Argentina, or that Lali Esposito will be blaring out over the PA at KP instead of Sam Fender…although I fully expect the Kingston Park area to be twinned with Buenos Aires!
I'm not sure who chose the blue and white (Argentina copy) away kit a few seasons ago but I'd like to get their opinion on which lottery numbers to pick as they can clearly predict the future.
It really has the feeling of a new era at the club so don't miss out, come along, get behind the team and club and get involved as we all have a part to play.
Those of us who attended the Fans Forum have a much better idea of what has been going on along with where we are heading, as always thanks to all those involved in putting on events like this, those who work behind the scenes as much as Semore, Matt and Alex who put themselves directly in the firing line, so to speak, I'm always impressed by how open and approachable everyone at The Falcons is and Alex seems to fit into that ethos perfectly.
As Matt said, we up here in the north east are often an easy target for the rumour mill, we are always first to be written off but we keep going and fighting and events like this help strengthen the connection between club and fans which is key to the future of the club in my opinion.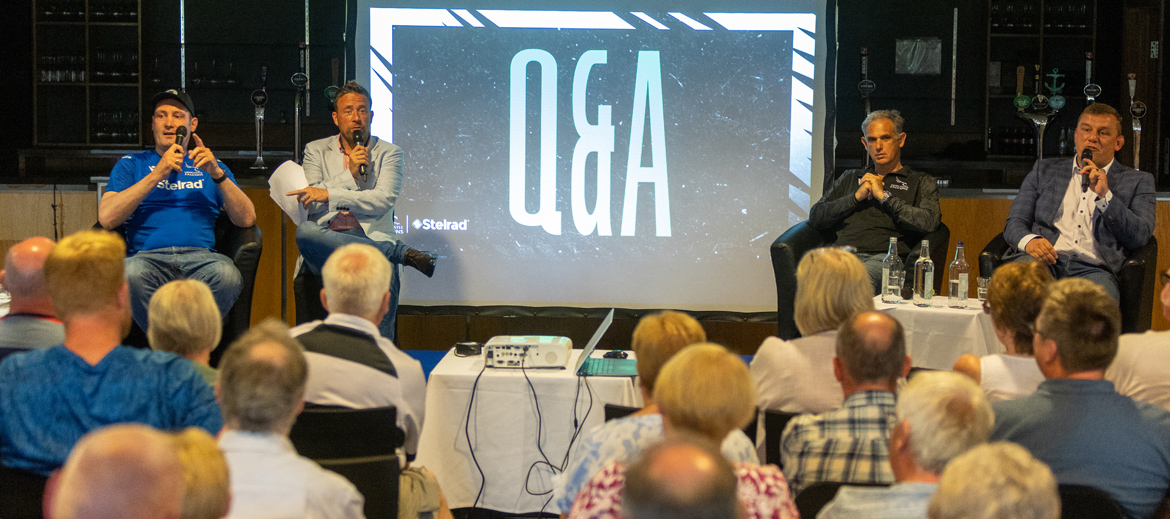 If you didn't get to the event then have a look at the report on the Falcons site, click here to read it.
At the Fans Forum it was also announced that Friday nights will be the first choice for home games this coming season. Anyone who has ever been to KP under Friday Night Lights I'm sure will understand this choice as there can be a very special atmosphere and now with the new floodlights I can even see the other end of the pitch although if someone from the club could liaise with the Highways Department about not closing the A1 each night until I get home I'd be most grateful! We have to play to our strengths in all ways and take full advantage of any factors that give us an edge and hopefully more Friday night games can do just that but I fully expect some serious moaning about the cold from Austin Healey in particular if (and it is a very big IF) TNT (the new BT Sports) cover any Friday night games as he always moans about how cold KP is even on a sunny afternoon.
The 2nd choice for home games will be Sunday afternoon, possibly to avoid clashes with football in the area? or maybe it was something that came out of the surveys that were going around?
Alex Codling talked about making KP a fortress which I'm sure we can all get behind, somewhere no team wants to play and not just because "it's a long way to travel" or "it's cold up north" but at the same time somewhere every visiting player and fan remembers because of the atmosphere.
A good idea to hold the Fans Forum as soon as Alex arrived, getting everything from last season out of the way and drawing a line under it, so that Alex and the team can start with a clean slate and with nothing from last season hanging over them.
It's obviously still a tricky time for clubs and fans alike, after the huge hit of covid we now have what I think I'm legally required to call the cost of living crisis.  I'd hate to think how many extra 50ps are needed in the meter just to put the new floodlights on (apologies to any younger readers who won't have a clue what I'm on about and I don't know enough about smartphones and apps to even attempt a modern day equivalent…so just ask your  grandparents) Clubs and fans all have a budget to adhere to and I'm sure The Falcons are well aware of that as reflected in all the ticket prices for this season so if you can't commit to a full season ticket then hopefully one of the flexi-memberships will suit you or failing that just get to any games you can.
With a smaller league and therefore fewer games hopefully we can give the Premiership Cup and European Challenge Cup a good go this season as well as climbing up the league table of course.  Both cup competitions throw up good fixtures and the European draw sees The Falcons off to South Africa for what will be their first competitive game on South African soil as well as French giants Montpellier visiting KP and the chance of flying with the Falcons to Perpignan (please scroll down to the away travel section for the link to all the information for this)
News on the Falcons website has been coming pretty fast so if you have missed anything hopefully the following links will be of some use.
To find out more about:-
Fixtures  click here
Season Tickets click here
Flexi-Memberships click here
Gallagher Premiership and EPCR Cup ticket prices click here

Hospitality
It has long been my view that inter club connections are vital for our survival and growth so we have to support all branches that make up the Falcons and appreciate what a great job the hospitality and commercial side do.  Obviously the best way to find out exactly what they do and just how good they are is to try out hospitality at a game so why not give it a go?
Hospitality is "horses for courses" but the Falcons now seem to have all bases covered with a wide range of packages to cater for all and even the new Fanzone seen for the first time at the Caldy game with stands selling things like pizza, ice cream, hog roast alongside the famous bus bar…the food on offer could change game to game and there are plans for a stage and live music. It's a great addition for match days so why not check it out, you will find it in the North West corner of the ground.
I think the new Street Eats packages which are also available as a "bolt on" to your season ticket on a match by match basis are an excellent idea and represent great value. Myself and a couple of friends who came up for the Saracens game tried this out so I'm speaking from experience. It's a very relaxed, informal setting with a friendly atmosphere. The staff are welcoming and helpful and the 3 food options on the day (chicken curry, ribs, quorn chili) all excellent. We shared a table with 4 visiting Sarries fans who were all very impressed, they had tried out various hospitality offerings at various Premiership grounds and would definitely come back, something they would not do at some of the other grounds they had tried. As for us, with middle bar access also included after the game it just added  something extra to the whole day so all in all Street Eats gets a thumbs up (which I understand is the highest form of praise these days). I'm not saying it made up for the result but it certainly helped soften it. This more informal and flexible option really works for me but as I said it is "horses for courses" so I'm sure you will find something to suit you.
A couple of photos of Street Eats hospitality
If you have something to celebrate then why not do that at KP, lots going on to enjoy both on and off the field.
Here are a couple of links but if you have any questions or require any further information about any of the hospitality packages on offer then email corporatesales@newcastle-falcons.co.uk
To find out more about:
The "Christmas" game click here
Enhancing your match days at KP with a seasonal Middle Bar access pass click here
Enhancing your match days at KP with the new Street Eats Hospitality packages click here

Season 22/23.
Being a Falcons fan is always a bit of a rollercoaster ride but last season provided perhaps even bigger peaks and troughs than usual and not just on the pitch but behind the scenes also.
With Will Welch, Alex Tait and even Smithy (from Newcastle radio) retiring, Mark Wilson, Scott MacLeod and of course Dave Walder leaving along with senior players like McGuigan, Davison, Young, Graham, Robinson, Peterson and Mulipola, it really does feel like the end of an area. Whatever happened I just think it was such a shame that Dave Walder's long association with The Falcons has ended the way it seemed to and with him away from the club…thanks Dave and good luck at The Bears (although obviously not in at least 2 games next season) and thanks and good luck to all who have pulled on the Falcons shirt and are moving on.
There were some great games and scintilating tries, some really gritty performances, it was such a stop start season with really long gaps in the calendar so add to that all the rumours and uncertainty and a lot of credit has to go to the team and coaching staff for getting through and being up for the challenge and of course to the management side for keeping us in business which as we know some other "bigger" clubs sadly couldn't manage.
As always there were things that didn't gone our way, a few "if onlys"…if only a few more passes had stuck, if only a few more bounces of the oval ball had gone our way,  if only a few more decisions had gone our way, if only we had a few less injuries, but we also have to be realistic and over the course of the season the league table doesn't lie, the points difference doesn't lie so a new head coach and some new players…let's hope some can have the same kind of impact the likes of De Chaves and Obatoyinbo have had since their arrival and that more of our home grown talent can come through, establish themselves and have the same impact as the likes of Chick, Blamire, Radwan and Stevenson to name a few have had in recent seasons.

Falcons Community & Newcastle Rugby Foundation
A special mention to those involved with the Falcons Community and Newcastle Rugby Foundation, I'm sure everyone at the Fans Forum was impressed and touched by the presentation from Melanie Magee, ably assisted by Dave Shotton (Social Inclusion Manger Falcons Community) Reece Wray (Hitz participant) and David Wilson (Cast volunteer). The words life changing may be over used these days but certainly not in connection with the work the Foundation does, so if you are able to, buy some tickets on matchdays or contribute in any way you can in the knowledge that every penny is put to such good use and can make a difference.
Falcons Community and Newcastle Rugby Foundation will be supported further by the Club as they launch a very unique charity shirt for the forthcoming season. Ten percent of the proceeds from the shirt will go toward the charity. The shirt was unveiled and worn for the first time against Caldy and is now available to buy. It is limited edition so if you want one don't hang around click here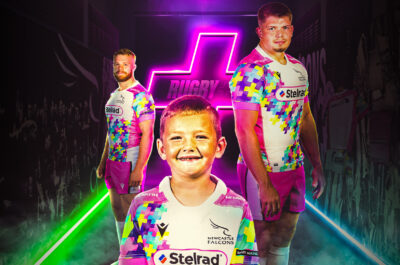 The Caldy game wasn't just a shirt launch but a full action packed community day including an under 9s and 10s rugby festival with 900 players from 29 clubs taking part, there was also a fun fair, face painters, dancers and parade. A couple of photos from the day (thanks as always to Chris Lishman) and to see the full gallery of photographs from the day on Chris' website click here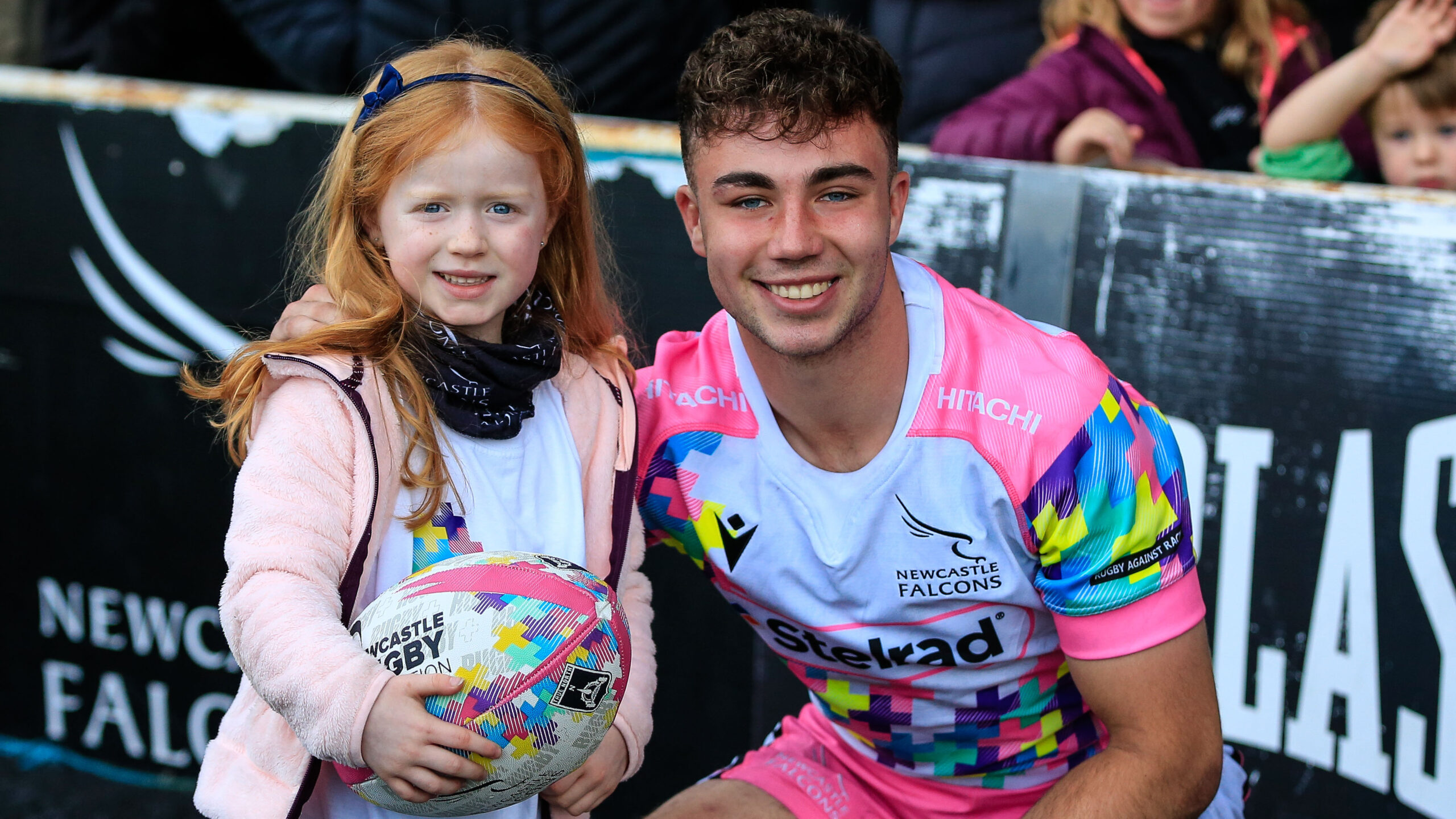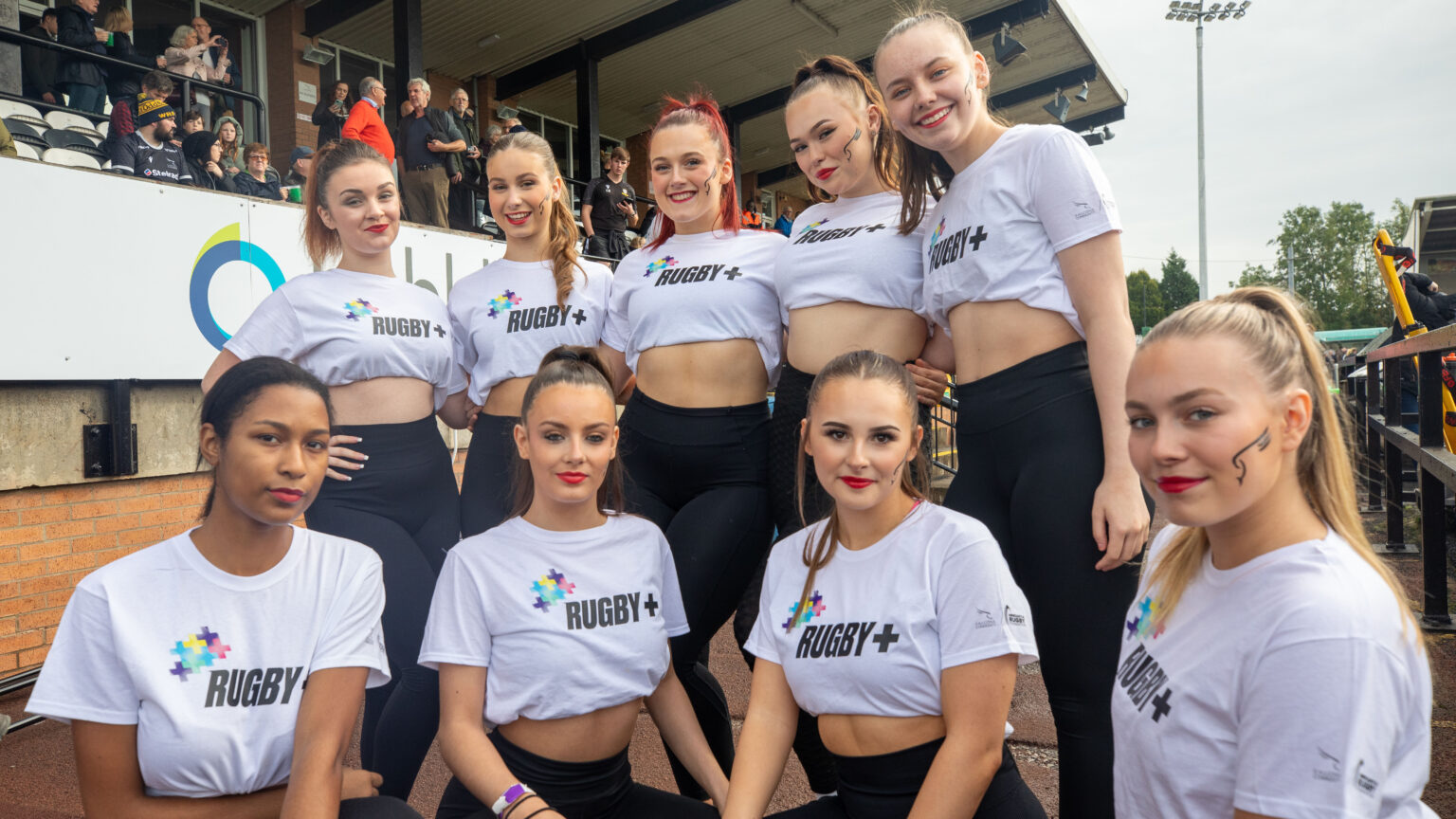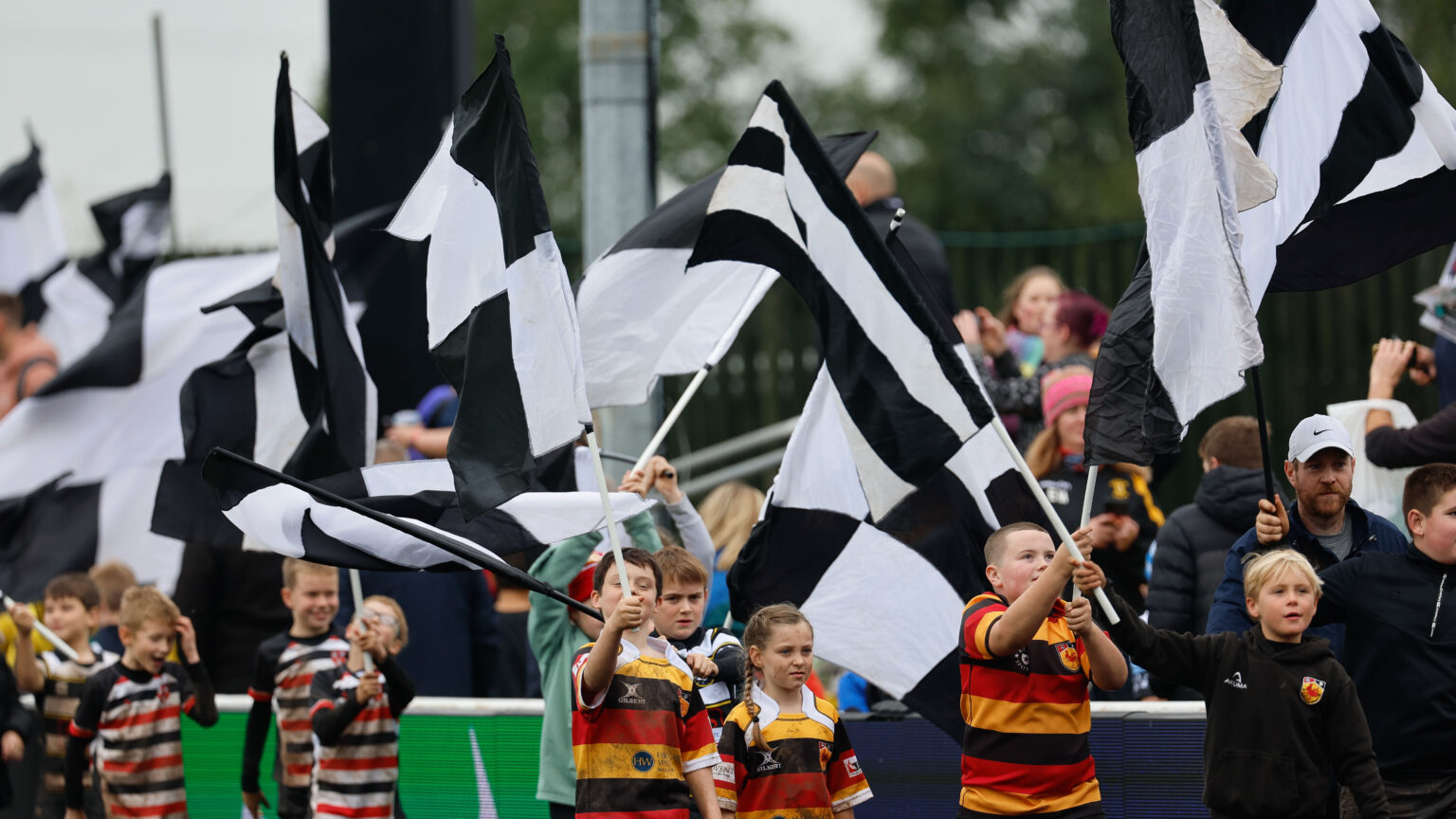 HITZ AWARDS 2023: WINNERS REVEALED
Many congratulations to Reece Wray and Jan Farkas.
Harlequins Wing, Cadan Murley gave praise last night to the HITZ Education and Employability programme, as Newcastle Falcons and Northampton Saints claimed the top spots at the 2023 awards ceremony.
Cadan Murley, attending on the night said, "What we do on the pitch as premiership players is nothing compared to the battles these young people have fought to change their lives for the better. Hearing their stories tonight highlights the importance of the HITZ programme for our younger generation. It is incredible to see how rugby has inspired and supported young people like winners Skye, Reece and Jan. The club foundations and amazing HITZ programme volunteers, like winner Shirley, give so much to the 14-24-year-olds on the programme who would otherwise could have taken a very different path in life. It's an honour and a privilege to be here to congratulate them all in person and I wish them every success for their future."
Twickenham played host to a moving celebration of young stars and older role models who have changed theirs or the lives of others by participating in the HITZ programme, which this year reaches a significant 15-year milestone since it was launched back in 2008 in a field in Hackney.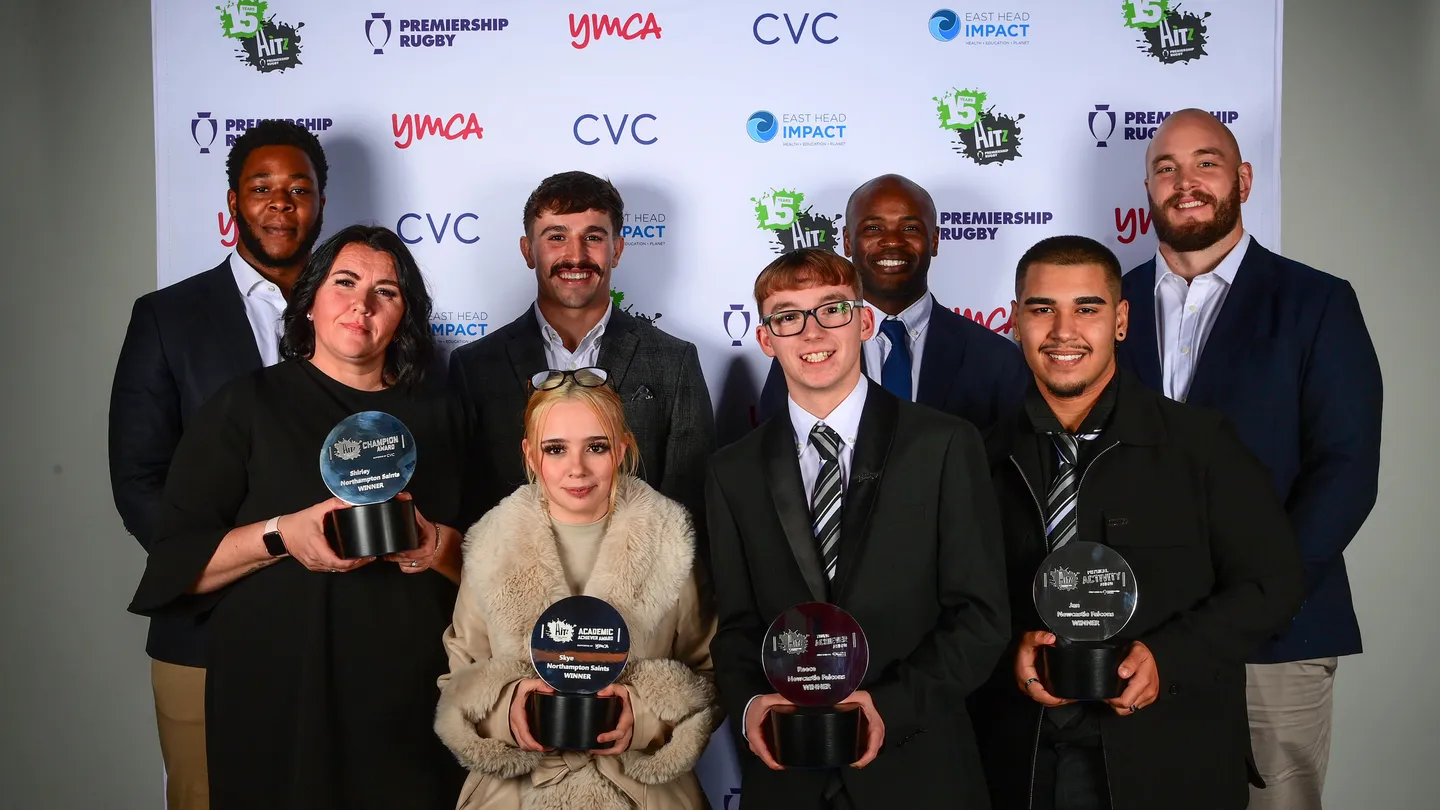 Newcastle Rugby Foundation's Jan was presented with the Physical Activity Award, supported by Premiership Rugby, and Reece of Newcastle Rugby Foundation won the Young Achiever Award, supported by East Head Impact.
Jan won the Physical Activity Award as recognition of his progress and development towards leading a more active and healthier lifestyle both on the HITZ programme and in his personal life. Without English as his first language and having gained weight during lockdowns Jan lost confidence to participate in sport. He joined HITZ to get himself back on track. Despite his father getting ill, care responsibilities for his brother, and regular housework to do he never gave up. Jan's admirable attitude to the programme has resulted in consistent positive feedback from coaches.
Reece was awarded the Young Achiever Award for being a young person who, by overcoming a range of challenges, has worked the hardest to progress on his journey back to education and employment. Reece joined HITZ at his darkest time mentally after tragically losing his father and grandfather. He left school with no Maths or English GCSEs despite his best efforts, leaving his future path uncertain. At HITZ, Reece has grown in strength and embraced all opportunities including volunteering at his local sports clubs and on Newcastle Falcons matchdays. He now plans to progress to Level 3 Sports Coaching in his quest to become a professional coach.
David Wilson and Lauren Mclean were also recognised for their achievements, being shortlisted for the Champion and Academic Achiever awards.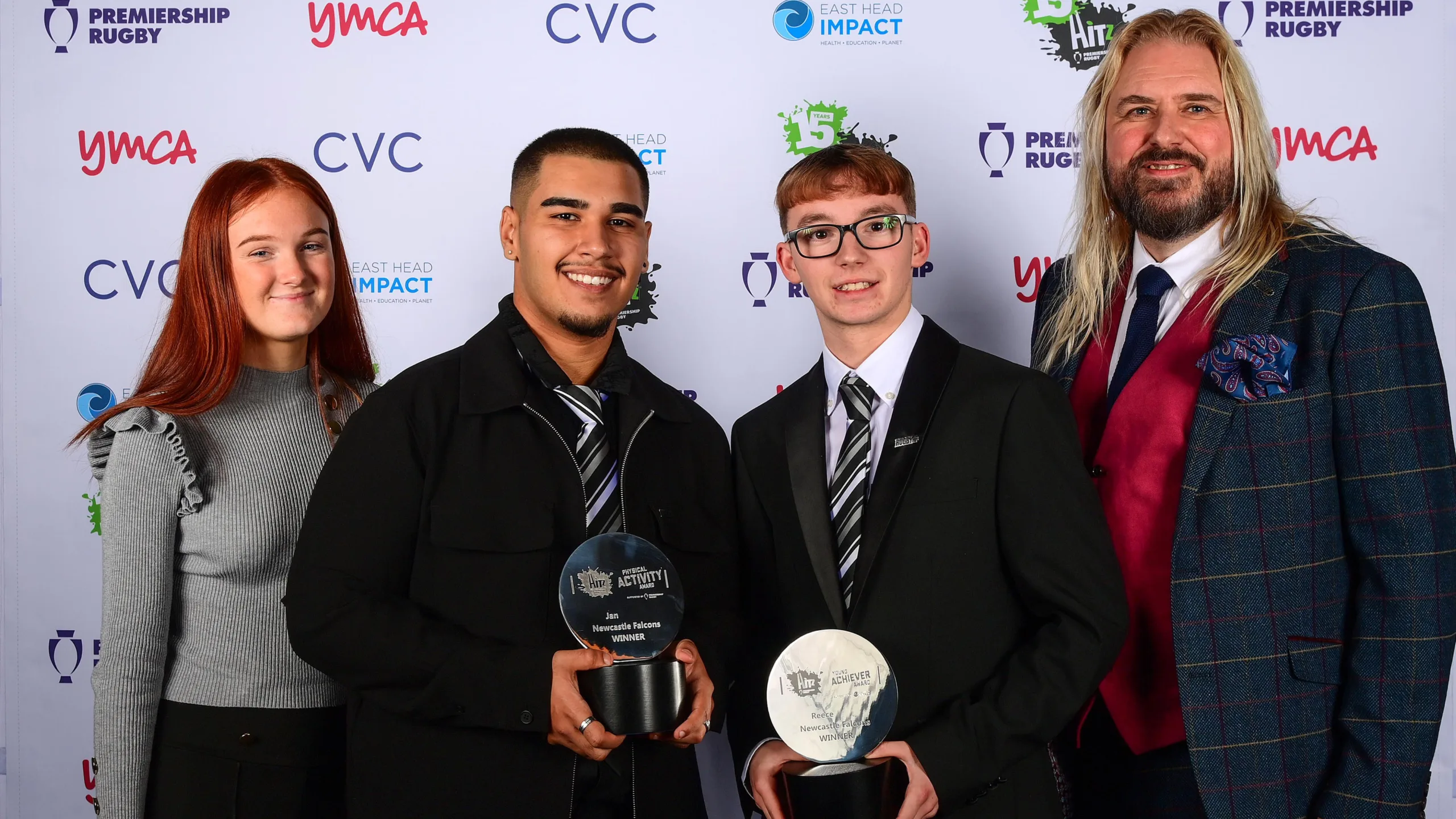 If you would like to find out a bit more about what exactly the Community and Foundation do then please follow the links below and check out the videos.
RUGBY+ video: RUGBY+ – YouTube
Build belonging: RUGBY + ~ Build Belonging! – YouTube
Grow Skills: RUGBY+ – Grow Skills – YouTube
Boost Wellbeing: Rugby+ ~ Boost Wellbeing – YouTube
Raise Involvement video: RUGBY+ ~ Raise Involvement – YouTube

Latest News and Forthcoming Events 
   Supporters Club AGM
The AGM was held on Wednesday 2nd August in the Classroom, Tap and Tackle Bar, Kingston Park.
A small group braved the "summer" weather to attend and even manged to move enough ducks from the car par to actually park.
Another chance for  me to see yet another part of the stadium I had no idea existed. It's many years since I was in a classroom but luckily this time there was no detention involved.
Colin Edge played Headmaster for the evening, ably assisted by prefects Keith Evans, Emma Lane, Lynne Crowe and Gillian Watson. A special mention and thanks to Emma who is stepping down from her role as Social Secretary. The past few years with all the restrictions and regulations around covid, the resulting economic situation along with all the upheaval at the club have meant that the social and events side of things have been especially difficult resulting in the majority of Emma's plans over the past few years unfortunately being derailed. It struck me that we shouldn't leave it until someone steps down before we thank them, all the committee give their time and energy to the Supporters Club and I'm sure it can be very heavy going and a thankless task at times. I think we are all a bit guilty of just "expecting" certain things at times without really understanding exactly what is involved in making those things happen so thanks to everyone involved in running the Supporters Club for all your time and efforts, all much appreciated.
With any club there is a certain amount of procedural stuff to get through, hence the AGM but it also gives a chance to raise other matters. Keith explained about coach selection for away travel and it was also mentioned that with the demise of Worcester and Wasps in particular that two of the nearer and more likely destinations for trips to away games next season have gone, so some thought is needed as to possible viable outings next season. All travel plans will be posted on the site once they are known so check back from time to time.
Flags were discussed in the wider context of fans being more visable at games. Often at KP home fans can at times blend into the background, possibly as Emma suggested because of our predominantly black kit so colourful away fans tend to stand out and be noticed although as Lynne rightly pointed out, it is mainly at away games we need to stand out more, smaller numbers obviously therefore important for us to be visible especially to the team on the pitch, maybe also to the television cameras as there is little chance of that happening at KP…Colin suggesting that TNT (the new name for BT Sports) stands for Tyneside Not Televised, sad but true!
Actually the whole flag thing is a bit of a can of worms, who knew there were so many legalities? It is something for further discussion.
It was quite interesting to reflect on the minutes of last years meeting, a time of upheaval and change at the club and the new season approached with much optimism…hmm…spot the difference? 
Let's hope there is a real difference this year, the changes for this season have cut far deeper and it really isn't just a cosmetic make over to paper over the cracks. It has been a difficult few years for rugby in general, difficult for The Falcons and difficult for the Supporters Club but we are still here so here's to not just regaining lost ground but seeing real growth and progress across the board and of course here's to finishing the league season with all 10 teams.
   Rob Andrew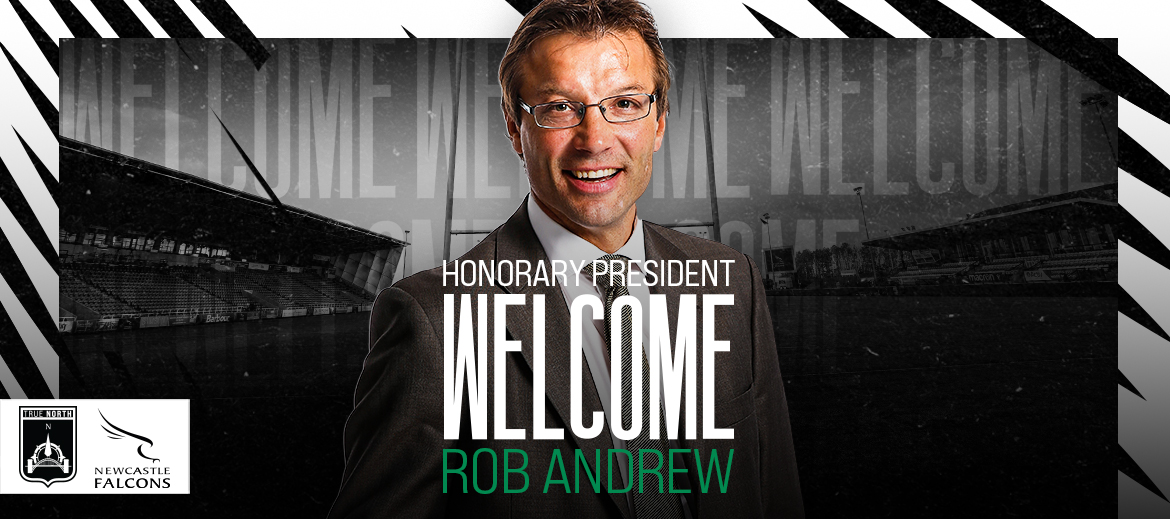 A warm welcome back to KP for Falcons legend and honorary supporters club member Rob Andrew. I'm not 100% sure of his role but from what I've read, I don't think he is either (or Semore or Matt come to that) but I'm sure he will be a valuable and useful addition. Usually honorary roles come with some kind of ancient perk such as grazing rights for your sheep so I hope Rob has remembered we have an artificial pitch and isn't banking on the grazing!
Away Travel
Leicester Tigers

  have offered Newcastle Falcons Supporters Club Members a discount on tickets for our Gallagher Premiership away game at the Mattioli Woods Welford Road Stadium on 3rd December. The discount code for this game has been emailed to Supporters Club members directly, so check your inbox.
The Supporters Club will be sending a coach to this game and full details about this trip can be found on the Away Travel page under the Next Away Trip heading. The games at Northampton on the weekend of Jan 27th and our final game of the season (unless we are in the playoffs…we can still dream!) at Gloucester on the weekend of 18th May are looking the most likely other possible games to run coaches to (depending  on which day over the weekends the games will be played). Details of any trips will appear here and in our Away Travel section when known.
Leicester Tigers Ticket Office click here
the return of the european away trip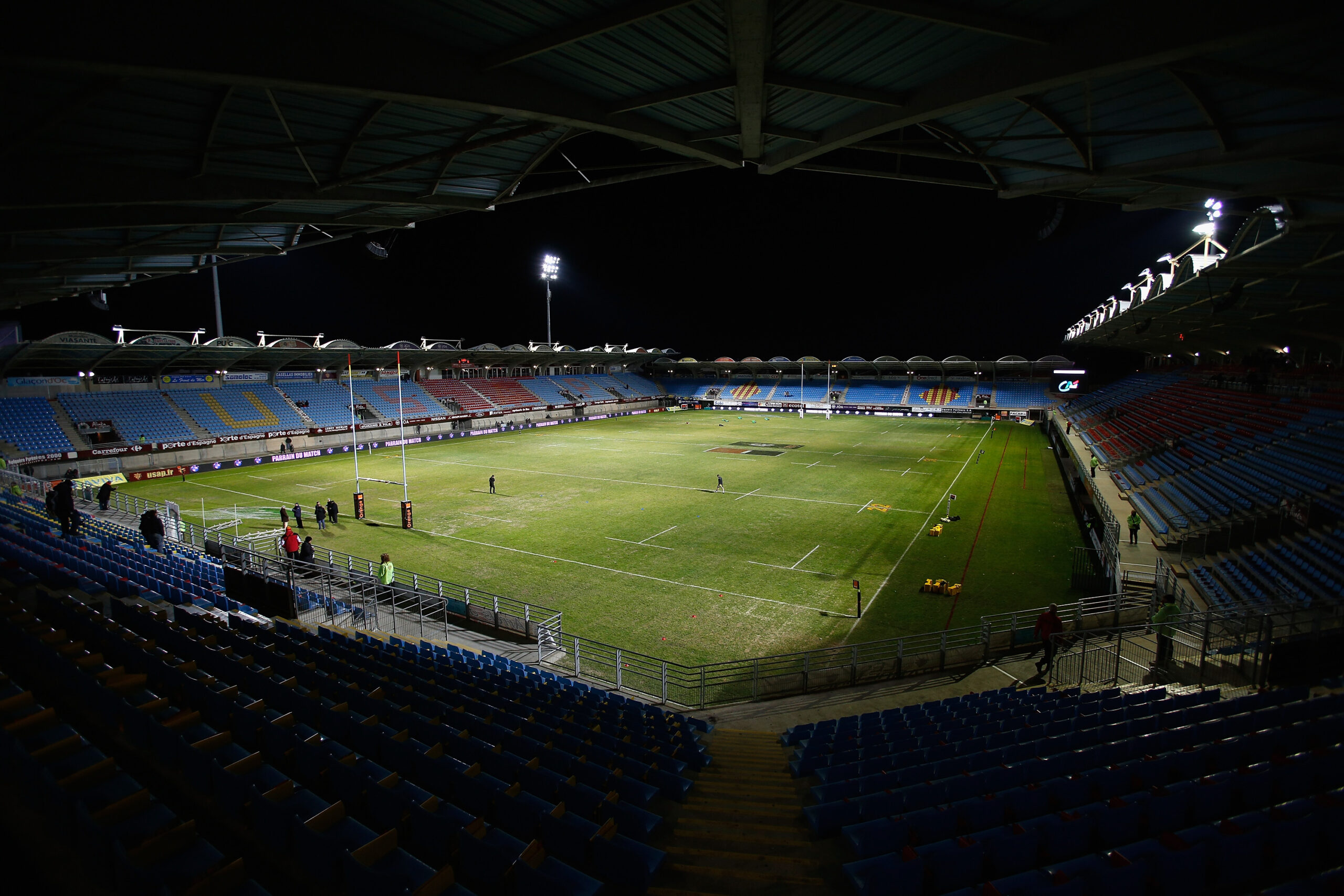 Fly with the Falcons to Perpignan, to find out more click here
The last trip by the supporters club was to the AJ Bell for the final league game of the 22/23 season.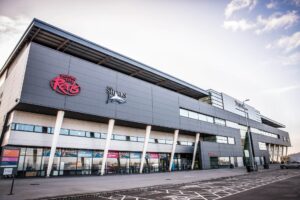 We took a nearly full bus of happy supporters to Salford, and despite the outcome of the game, they all came back happy too. We had a record eleven juniors with us, which says so much about how family-friendly the away trips are, something we feel is very important for everybody who travels with us. The players were brilliant after the game, especially for the younger supporters, giving them souvenirs to take home. Elliott Obatoyinbo went the extra mile, leaving the pitch in just his undershorts, his kit distributed amongst some delighted juniors who will treasure their prizes for years to come. A big thank you to all the players who were brilliant despite a punishing game, to Stanley Travel who have taken us around the country in style and comfort, and to all the supporters who have made this possible by being part of the Supporters Club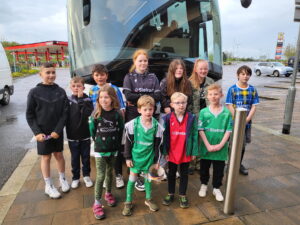 ---
Social Events
Events will appear here once finalised.
This year there will not be a season launch night so we will never know if Micky Ward did buy a pair of trousers for last years and subsequent events or just borrowed some for the one night. The smart money is on the latter.