Welcome to the web-site of the Newcastle Falcons Supporters Club
First of all, thank you for taking the time to browse our website.
The Supporters Club is run by the Supporters for the Supporters and as an independent body.    All decisions relating to the Club are made by an elected committee or the membership as a whole by way of Annual General Meeting. If you want to get in touch then you will find contact details on the How to Join page, or you will easily find some of us for a friendly welcome behind the posts in the South Stand at home games, just ask any of the natives and they will point you in our direction.
If you have not yet registered for membership with the Supporters Club, why not?  Further details can be found by clicking the Join Now! tab. Fees for the 2021/22 season are £15 for a family membership for up to 2 adults and up to 2 children (under 18 years) living at the same address or £10 for an adult member.  Membership runs from the 1st August to the 31st July.

Latest News and Forthcoming Events

Away Travel
Our last away trip of the season was to Northampton Saints, and despite the result we had a very enjoyable day out. We had seven junior members on this trip, a record for a single bus, and testament to the friendly atmosphere. Our youngest traveler was 5 years old, and our oldest, ahem, quite a lot older.
We will of course be working to organise buses for next season as soon as the fixtures and pre-season games are announced, so keep an eye on this page and on social media for details. Members will of course be informed by email.
We would like to thank Newcastle Falcons for their support in helping to advertise our away trips and donating superb raffle prizes which add a bit of fun to the day out.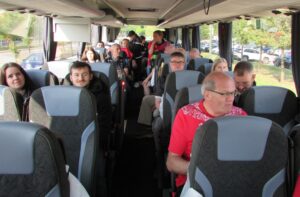 Social Events
Newcastle Falcons very kindly laid on a free two-course buffet meal for all members of the Supporters Club before the game against Zebre Saturday 9th April. We would like to thank them for a very enjoyable evening which was very much appreciated by all. Next up is our Annual General Meeting, details of which will be sent to all members, then we can start looking forward to a new season and hopefully a return to the type of social events with players, management and officials that we have enjoyed so much over the years.